Moving from Japan to overseas
If you are new to moving overseas, you are probably worried about fees and services after arrival.
It is not uncommon for unforseen problems or expenses to arise when your goods arrive in their destination country.
For this reason, we have partnered with Japanese companies overseas and domestic agents, so that we can respond quickly and allay your concerns if difficulties should arise.
When moving household goods from Japan to overseas, there are different types of moving service. Generally speaking, door-to-door, and door-to-port moves between two countries are the most common, but we can also arrange round-trip transportation as well as moves involving multiple countries.
1. Door to Door service
As it says, your goods will be moved from one house to another (even to a particular room, if you like). All packaging is done by us, and boxes can be unpacked and packing materials removed at the destination if you so require. (Services may vary depending on the country and local agent). This is the most popular service.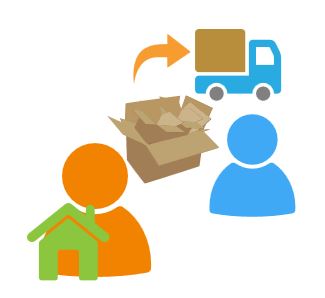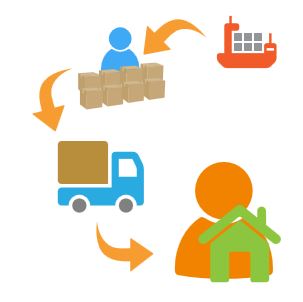 2.Door to port service
This is a service that includes everything from packaging to delivery at the local port. If you are willing or able to arrange customs clearance and delivery in your destination country, this can be considerably cheaper. For the inexperienced, however, this can be stressful and time-consuming, and unexpected fees and expenses can often occur.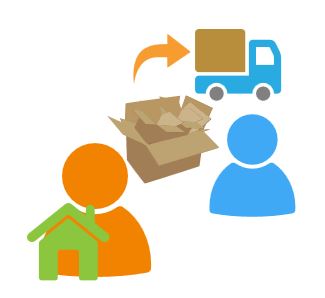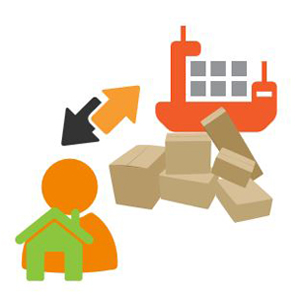 3.Round-trip and overseas shuttle transport service.
This is for those who want to exhibit or open a store at an exhibition, festival, expo etc. at their destination; those who want to go to and from a country repeatedly; or those who want to go back and forth between two overseas countries. It is considered awkward, because it takes a lot of labor and expense to carry out import and export procedures for each trip. In such cases, there is a special customs clearance method called carnet clearance, which is very safe and inexpensive. However, the procedure is complex and difficult both for individuals and companies.
For this type of moving, we will take care of application for documents, packing, customs clearance and delivery, so you can proceed as planned until you return home, without stress. Our customers report great satisfaction with the experience.
Flow of Moving from Japan to overseas
1. Contact
Please feel free to contact us via telephone or use our online contact form
Inquire Form or Telphone. 04-2936-8228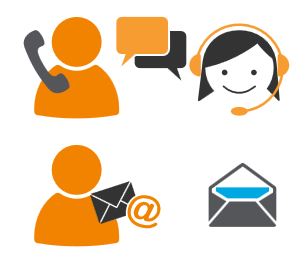 2. Estimate.
We will provide a free estimate.Please let us know your requirements.
At the same time as delivering the correct price, we aim to ensure our customers' peace of mind by answering any questions.

3. Application.
We strongly recommend that you apply well in advance. Recently, many countries are placing more demanding conditions on moving cargo.
This means it can be a slow process to get all the documents you need, and if you don't have enough time you may have to consider other, costlier methods.
Caution. Please beware of any moving service who tells you documents are not necessary. They are absolutely essential!.
We will determine the date of packing and pick-up, and we will send you the necessary documents. Please feel free to let us know if you have any changes or special requirements.

4. Packing.
In principle, our staff is responsible for packing. This means that even if you choose to do it yourself, the price will not change. It also helps prevent the possibilities of 1. Misdelivery of dangerous goods, prohibited items, etc. and 2. Damage, theft, etc. in transit, leading to insurance claims.
Packing by customer
Secure packaging for a long journey, especially of tableware and furniture, is difficult for the inexperienced, and is not recommended. The possibility of breakage on arrival also increases. Exceptions, which many customers prefer to pack by themselves, are sensitive or personal items such as important documents, lingerie, etc.
Packing by us
We will carefully pack your goods with professional techniques.In addition, if there are any particularly delicate or valuable items, our staff will follow any special instructions so the packing meets your your satisfaction.

Self-packing. Most agents are reluctant to merely pick up goods and deliver them to the port, and will not lower their rates significantly if you do your own packing. Unless you have items you simply must take care of yourself, we recommend that you leave it to the professionals.
Packed by our agent
Packing will be done carefully using professional technology. The local agent will arrange everything from packing to arrival at the port in Japan · Please prepare necessary documents according to their instructions. If you require insurance, please get a copy of the packing list from the agent, fill in the insurance declared amount for each carton and send it to us by e-mail.

5. Domestic pickup by our company
After packing at the customer's home, we will remove and transport the goods immediately. If you plan to take out insurance, please indicate the value in the declaration. Last-minute items, such as things you may have overlooked, or decided to pack yourself, can be sent directly to our warehouse, or (for an extra fee) can be picked up by our vehicle.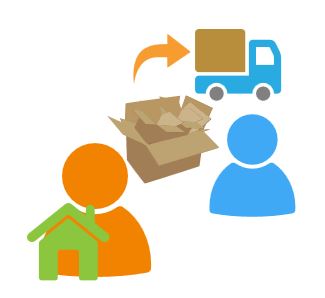 6. Export clearans & Export
We will take care of document preparation, vessel booking and export customs clearance . Depending upon the destination, your goods will arrive in anything from one to six weeks. Please see the chart for approximate times.
A local agent (for door-to-door service)will contact you 2-3 days before the vessel's arrival.

7. Local import customs clearance and receipt
Your goods will be delivered according to the method you selected, either door-to-door or door-to-port service.
Door to door service → Customs clearance, local pick-up and delivery all arranged by our company.
Two to three days before your shipment arrives at the destination port, you will be notified by our local agent. They will also inform you how much you will be required to pay in port fees and extra local charges, if applicable. After customs clearance, you will be contacted again to decide the delivery schedule. Your goods will be delivered directly to your address by our agent. At the time of delivery, furniture will be reassembled where necessary, and waste packing materials will be collected and removed. Please note that extra labor is required for deliveries to upper floors of buildings without elevators, or those with access roads too narrow for delivery vehicles, so extra charges will be required.
Door to port service → Customs clearance, local pick-up and delivery by yourself
If there is a large amount of goods, you will need to arrange for a local delivery company. In addition, you will need to know in advance the documents required for customs clearance.
If you should need any extra information from us, we can be contacted, but this will lead to delays in getting your shipment cleared.
The shipping company will contact you two to three days before arrival, and will issue an arrival notice. As above, you will have to pay port charges to ashipping compny, and any customs duties, taxes etc to the the local authorities. After that, you should be able to receive your cargo according to the instructions of the shipping company.